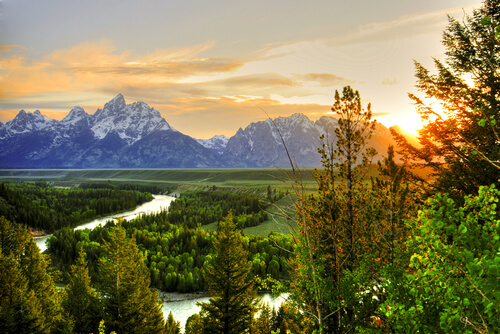 Grand Teton National Park is one of America's best National Parks, ranking alongside Yosemite, Yellowstone, Grand Canyon, Acadia, and Glacier National Parks. The best part is, you can actually get a two for one special when visiting Grand Teton… Yellowstone is actually part of the same park system and is only 10 miles away!
History
The park gets its name from 19th-century French-speaking trappers, who named the mountains les trois tetons, which was later shorted to tetons. The highest peak, Grand Teton, is where the park gets its name. At 13775 feet tall, Grand Teton is almost 850 feet taller than the second highest peak in the range, Mount Owen. The area was prominent among fur trappers through much of the 1800s.
The area was preserved as a National Park in 1929. The adjacent Jackson Hole Valley region was later declared a National Monument in 1943, which was later abolished in 1950 and absorbed into the National Park.
Geography and Wildlife

Besides the obvious mountain range in the park, visitors can also expect to encounter the Snake River, numerous lakes (including the 15 mile Jackson Lake), and a dozen or so small glaciers.
The park supports an almost pristine ecosystem. Animals and plants that have existed since prehistoric times still flourish in the park. There are over a thousand native plants, dozens of mammals, hundreds of birds, and more than a dozen fish species. Though less common, there are also some reptiles and amphibians.
Activities and Recreation
The park is a popular destination for a variety of sports, including mountaineering, hiking, fishing, and camping.
Mountaineers will have numerous climbing options that range numerous skill levels. Hikers have over 200 miles of trails that they can explore. Fishing in the region is world-renowned for its trout fishing.
Visit PleasureLand RV Center
Stop by PleasureLand RV Center to tour a new or used RV that's perfect for your trip to Grand Teton National Park. If you've already got a rig, but want to make sure that it's in good condition for a road trip, let PleasureLand RV Center look it over for you!