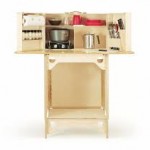 Have you ever pulled up to your campsite after a long day of driving, get ready to start cooking and remember you forgot the foldable table or utensils? Just like in your kitchen at home, there are many parts and pieces that can be forgot or go missing if not properly cared for. Certainly can be frustrating. In comes a new product designed for RVs and camping in general to help out with such an instance. The "My Camp Kitchen", is a one stop shop for all your cooking and grilling needs (minus the grill of course). Compact design and the ease to assemble should make this a very popular holiday gift this season. The following is a video put together by the website in order to show how portable and easy this outdoor cooking set is:
httpv://www.youtube.com/watch?v=B4vVIK6O94o
No more dragging a picnic table over or worrying about the sturdiness of your favorite folding table anymore. Not only that, but this wonderful package also has storage for tupperware and even non-perishable foods. As you can see in the video, this piece also has room not only to prepare your foods, but also for a single burner for those jobs that cannot be completed on the grill.
How well do you see this product fitting into your RV travels? Leave a comment below and let the rest of us know!!
[Source: My Camp Kitchen]