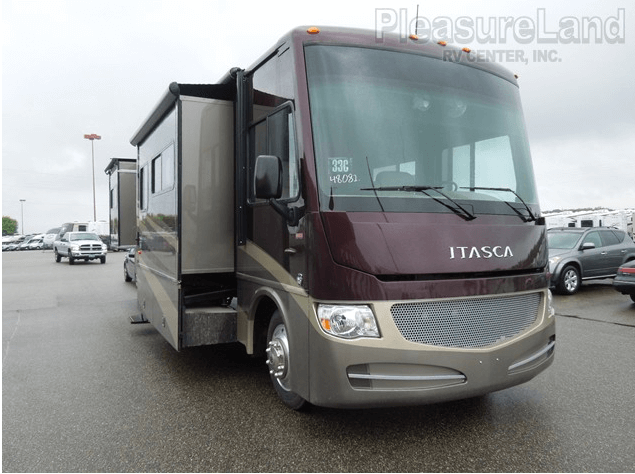 If you are in search of some of the most remarkable Class A RVs that Minneapolis Minnesota has to offer, head on over to Pleasureland RV Center. Pleasureland is home to the Itasca Sunova, and if you are in the market for a truly exceptional Motorhome, you need to take a look.
The Itasca Sunova comes in a choice of four distinctive models, all with popular amenities like LED lighting, Corian brand countertops, and MCD solar/blackout roller shades. New for this year is the StudioLoft drop down cab bed that offers travelers more flexibility than ever. Of course, this comes with Winnebago's superior construction and engineering for a motorhome that will deliver on its promise of value for years to come!
Let's take a quick look at these four models and what each can offer you and your family.
The 30A
The Sunova 30A has a mid-coach 42″ Television, an extendable U-shaped dinette, along with an ample wardrobe and chest of drawers. It has a dual-slideout floor plan that offers some comfortable living space.
The 33C
This model offers a triple-slideout floor plan with multiple furniture choices that include a Rest Easy sofa, a Euro recliner, and an extendable dining table with retractable HDTV. The 33C also features a king size bed.
The 35G
The triple-slideout floor plan of the Sunova 35G offers great space, an inLounge and inTable and even an optional fireplace!
The 36V
This dual slideout model has lots of amenities including a BenchMark dinette, an extendable sectional sofa, twin wardrobes and the option of a king size bed.
These Itasca Sunova models offer plenty of room and great value. The best way to experience one is to come on out and see them for yourself. You will be able to tell immediately upon entering one how well they are crafted and designed. While Itasca limits what we can tell you about the price of these models you know that there is not an RV dealership that can match the deal you will get at Pleasureland RV Center.
The summer took a long time to get here but it is flying by! There is still plenty of time to enjoy your family and the great outdoors with a new or used RV. We can even show you your rental options if you are curious if you would enjoy the lifestyle. Pleasureland is family owned and operated. We look forward to seeing you soon at PleasureLand RV Center.