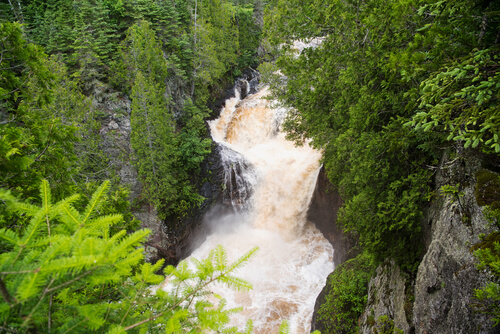 Continuing the series on Minnesota's state parks, we've got Judge C.R. Magney State Park up next. Sprawled across 4,695 acres, the park attracts nearly 70,000 annual visitors and over 6,000 overnight stays.
Come for the quiet, the solitude, and the famous Devil's Kettle waterfall. The most popular hike leads from the trailhead upstream along the Brule River to Devil's Kettle, where the river splits around a mass of volcanic rock. Half of the river plunges 50 feet into a pool, while the rest pours into a huge pothole. Anglers can catch brook and rainbow trout in the Brule River or its tributary, Gauthier Creek. The park offers camping, picnicking, and hiking.
The park is a wildlife observer's dream. Moose, white-tailed deer, black bears, and timber wolves are among the larger animals that inhabit the park. Smaller mammals that visitors may see include the woodchuck, snowshoe hare, red squirrel, and chipmunk. In the spring and summer, listen for the songs of warblers. All year round, chickadees, nuthatches, jays, woodpeckers, and ruffed grouse can be seen in the park.
The scenic Brule River races through the park, forming whitewater rapids and waterfalls on its way to Lake Superior. Along the lower stretches of the river are a series of spectacular waterfalls.
Visit PleasureLand RV Center
Stop by PleasureLand RV Center before you visit any state park in Minnesota to make sure that your RV is in good shape to travel. If you need to upgrade your rig, PleasureLand RV Center is the place to shop. Tour our wide inventory of new and used RVs, from Class A motorhomes to fifth wheel trailers.