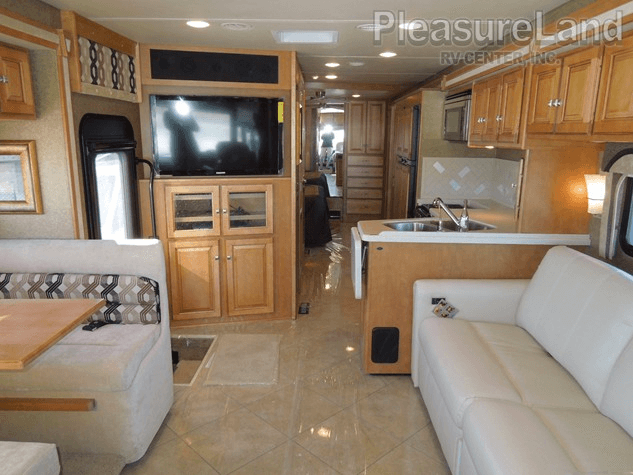 With all the features and amenities your family could ever want in an RV, the 2013 Itasca Suncruiser is the home away from home you have always dreamed of. This fantastic motor home comes with all the features you need to be comfortable on the road, including a full kitchen, bath, and bedrooms. Their are three different floor plans available for the Itasca Suncruiser, all of them filled with features that will make everyone in your family happy, and you the envy of your friends and neighbors.
You won't have to sweat the heat with the new TrueAir® Maximum Comfort A/C. This system is fully functional and is sure to keep you and your family happy in the hot, humid summer months ahead.
Another great feature that owners of the Itasca Suncruiser love is the master bathroom available in the 37f model. In addition to a large, spacious master bathroom, the Suncruiser also has a smaller, separate bathroom for guests. This means no more waiting to use the bathroom. You can finally relax and take your time while you are on vacation.
Other features that owners love include the luscious Ultraleather seating. These soft, comfortable seats are great for lounging and relaxing, or just enjoying the drive. There is plenty of seating for the whole family, so no one needs to feel cramped or crowded.
The Suncruiser also has plenty of sleeping space, including a queen bed that has a state of the art, high quality, fully automatic, fully adjustable comfort control mattress. Other sleeping options include the sofa in the lounge area that converts into a bed for passengers and extra guests.
You are sure to enjoy the look and feel of the new Suncruiser RV. This motor home will quickly begin to feel like your new home as you begin to have many wonderful adventures on the road. Come into Pleasureland RV and check out one of the many display models we have available for your perusal.